Flowers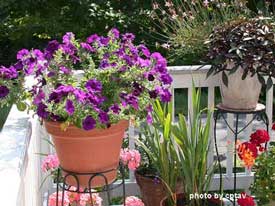 Flowers and porches go together when decorating for summer. This is another great way to add color and pizazz to your porch this summer. Color coordinate your flower's colors with your porch furniture, cushions, or other accent pieces to "pull it all together" when decorating. For summer fun, don't forget the flower pots. (Photo is courtesy of
cptav
).
Hanging baskets are a great way to create a summer look also. Consider using all of one color flowering plant or perhaps a combination of three complementary colors to match your porch decor. Not sure what colors go together? Use our Color Guide to help select just the right ones when decorating your porch for summer.

Furniture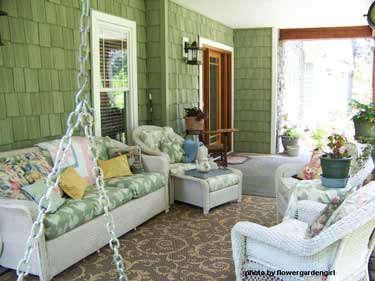 This porch belongs to Anna of Flower Garden Girl - love it!
Add a glass table, light and airy tablecloths, chandeliers or hanging lights, and candles or vases with freshly cut flowers. Add some wicker chairs - wicker says summer. Use bright colored cushions when decorating for summer and place the wicker on a great outdoor rug.
Cushion covers can be purchased in a multitude of colors and patterns and are also a relatively easy DIY project. Add a whimsical pattern or mix and match for an eclectic look. Now sit back and relax on a summer evening!
Porch Accents
When decorating for summer bring out the porch accents! You probably have items around your home that would look great on your porch. Or check out these ideas...
Wall hangings - Wall hangings are a great way to capture the summer fun. It makes you porch instantly welcoming and you can either purchase outdoor wall art or make it yourself. For beach house porches make it nautical, of course; for that contemporary porch a geometric design may work well.

Wreaths - Hang a beautiful decorative wreath on your front door.

Welcome mat - Change out that worn out looking outdoor door mat. There are so many new designs and colors to choose from. Select one that will add a little sophistication to your home, traps the dirt and water, and wears well.

Light fixtures and door hardware - Take a good look at your existing light fixtures and door hardware. Now would be a great time to update them especially if you are trying to sell your home.